A teenager has been sentenced to life with a minimum term of years for the murder of – year-old Jaden Moodie, who was knocked off his moped by a car before being stabbed to death in the road.
Ayoub Majdouline, 22, who was found guilty at the Old Bailey last week, was among a group who had driven around looking for a rival gang member to attack.
Jaden was out drug dealing for the Beaumont gang in east London when he was killed on the evening of 8 January, the Old Bailey had heard.
The attack in Leyton was captured on CCTV .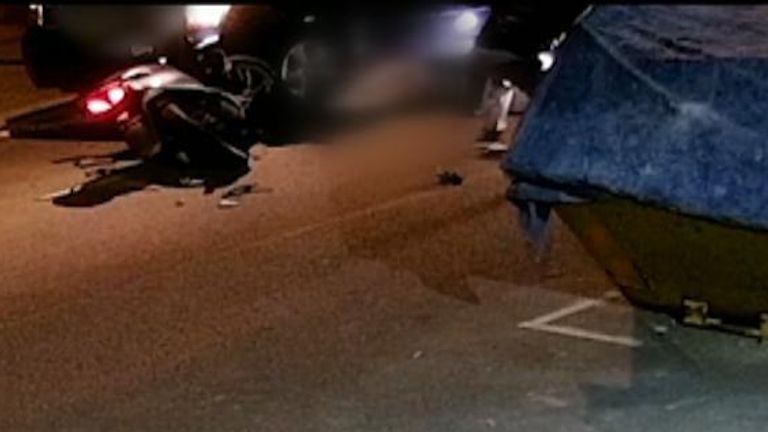 Footage played in court showed Jaden being knocked off his moped by a stolen Mercedes before he is seen lying defenceless in the road.
He was then stabbed by a group of people before the Mercedes drove off.
Jaden suffered nine stab wounds and bled to death in the road as the car sped away, the court heard.
In a victim impact statement, Jaden's mother, Jada Bailey, described his killing as "barbaric".
Majdouline, from Wembley, north London, had denied murder and possession of a knife.
He was seen on CCTV at a Travelodge in Walthamstow on the day before the attack.
The teenager was wearing yellow rubber gloves, one of which was later found to have traces of the victim's blood and the defendant's DNA, the jury was told.
Majdouline had a troubled upbringing in Leyton and had turned to drug dealing for older boys to make money.
His Irish mother and Moroccan father split up when he was aged seven.
Majdouline's father died in (******************************************, so the teenager went to live with an aunt and later went into foster care, his trial heard.
He was identified by the National Crime Agency in 2018 as a victim of "modern slavery", amid concerns of exploitation by older youths.