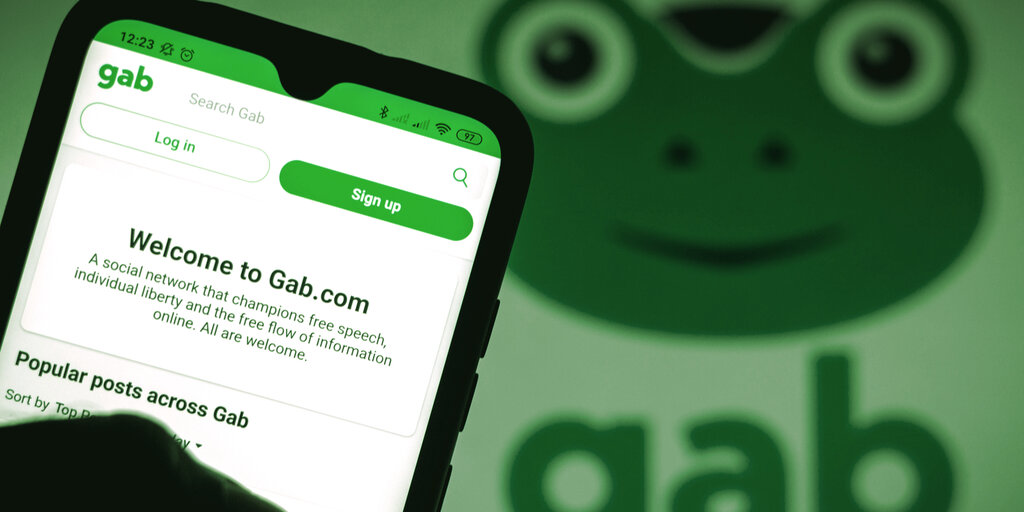 Parler and Gab both refer to themselves "free speech" social networks. But one is offline and the other is gaining users.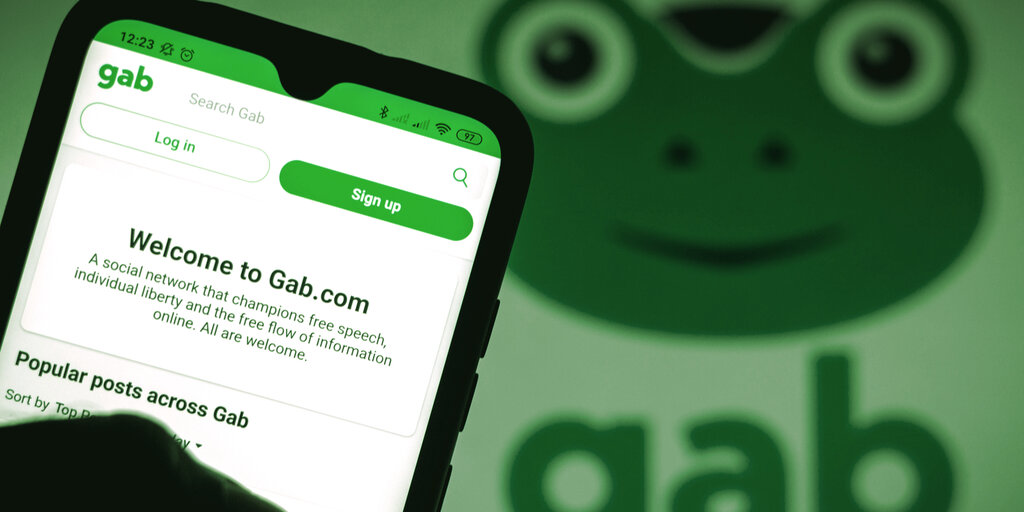 With social media website Parler completely offline, rival social network Gab says it is picking up users in droves.
Because the two sites have analogous user bases—they lean heavily to the right and both call themselves "free speech" social networks—Gab is now absorbing new users and capitalizing on a years-long quest to remove its reliance on third parties and receive customer payments through Bitcoin. It reported 600,000 new users yesterday alone.
Meanwhile, Forbes is already writing Parler's obituary.
On Friday, January 8, two days after pro-Trump protestors stormed the US Capitol, Google suspended social media app Parler from its Play Store, arguing the site had been used as a staging ground for the attacks and that it did not do enough to police violence. The next day, Apple did the same.
By doing so, they made the app more difficult to download, but not impossible to access. Then came the kicker. Amazon, which controls one-third of the world's cloud infrastructure, cut off access to cloud hosting on Sunday night. (Parler today sued Amazon, alleging antitrust violations.)
If this invokes a sense of deja vu, that may be because "free speech" social network Gab weathered a similar onslaught from Silicon valley power brokers starting in 2018 after a verified Gab user (who included anti-Semitic messages in his bio) posted violent messages to the platform before attacking the Tree of Life synagogue in Pittsburgh, killing 11.
We welcome John Matze, Dan Bongino and everyone on Parler to speak freely on Gab while they work to get the platform back online.

— Gab.com (@getongab) January 11, 2021
The site was then dropped by web host GoDaddy and lost access to multiple payment processors.
To stay online, Gab has relied on Bitcoin over payment processors, built federated servers rather than shop for someone who will host the site, and, throughout it all, thumbed its nose at Big Tech's gatekeepers.
In an interview today with WBRE in Scranton, Pennsylvania, Gab CEO Andrew Torba explained the steps the site has taken to remain online.
"We went out and bought our own servers. We own them. We cannot be banned from them. That's how you're going to take back control of the internet."
It can, however, be overwhelmed. While signing on to Gab, Decrypt initially had some trouble:
As for funding, Torba said, "Thankfully, there's Bitcoin, which is Free Speech Money….That's one of the ways we've survived over these past [few] years is Bitcoin, we don't have to ask permission to process payments from a bank or from a government or from another company."
When the reporter asked whether Gab had vulnerabilities that could take it down, Torba replied:
"The FBI could seize our website. If the Communists get ahold of the FBI…they can seize our website, so that is a real possibility. Outside of that, we control our own destiny. We have our own servers, we built our own email system, we built our own social network, we built our own 'YouTube'…We built our own web browser."
Parler, however, doesn't have the same infrastructure and has remained reliant on third parties, including Amazon Web Services, despite pitching itself to a similarly conservative market as Gab and maintaining loose moderation policies.
Indeed, Parler, which has been around since 2018, enjoyed a fast rise to fame last year as several prominent conservatives looked for an alternative to Twitter, which they accused of censoring right-wing content. But the site, laissez-faire and libertarian in spirit, appeared unready to handle the infrastructural requirements necessary to compete with Twitter and Facebook. 
A December 2020 Washington Post report, for instance, noted that COO Jeffrey Wernick was ignorant of pornographic content on the site. "I don't look for that content, so why should I know it exists?"
This is the biggest shift of people from one platform to another in the history of the internet. Historic. Humbling. Thank you.

— Gab.com (@getongab) January 11, 2021
In other words, the operation seemed to be in startup mode and unready for the spotlight. Or for the hammer to come down on it.
Its CEO, John Matze, wrote in a (now-unavailable) Parler post:
"We will likely be down longer than expected. This is not due to software restrictions—we have our software and everyone's data ready to go. Rather it's that Amazon's, Google's and Apple's statements to the press about dropping our access has caused most of our other vendors to drop their support for us as well. And most people with enough servers to host us have shut their doors to us. We will update everyone and update the press when we are back online."
If Gab can take hold, that may be too late.