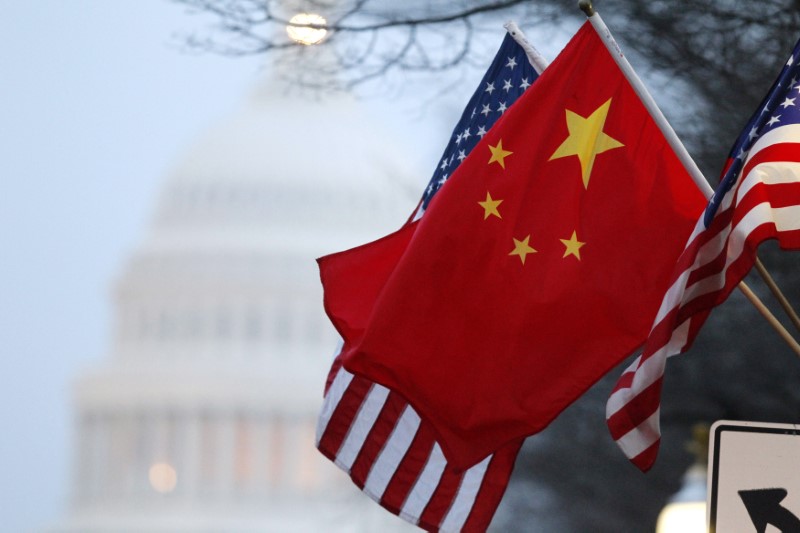 © Reuters.
Investing.com – Stocks are within touching distance of new all-time highs after China stoked hopes of a trade deal with the U.S. Meanwhile, sterling is at a two-month high as Brexit risks recede, and WeWork's IPO is back on the road. Here's what you need to know in financial markets on Friday, 13 th September.
1. China encourages trade hopes
China indirectly encouraged hopes of trade détente with the U.S., as Global Times editor Hu Xijin suggested via Twitter that the Chinese government is leaning on agricultural buyers to of U.S. soybeans and pork.
Hu's tweets aren't government policy but have been a reasonably reliable indicator of Chinese thinking on trade in recent months, reflecting the Global Times's status as a vehicle for Chinese Communist Party thought.
2The news came after President Donald Trump tried to downplay a Bloomberg report on Thursday suggesting that he was prepared to offer a temporary truce, delaying or even rolling back some U.S. tariffs on Chinese goods. Trump told reporters he would "rather get the whole deal done."
2. Stocks close in on all-time highs
The increasing signs of a thaw between the U.S. and China have sent stock markets back to within touching distance of all-time highs.
By 5: 45 AM ET, were up 94 points or 0.3%, while and were also both up 0.3%, the S&P contract less than half a percent away from its record high.
The risk-on move found its mirror image in the dollar and in Treasury bond yields. The benchmark note yield rose to 1. 80%, its highest in over a month and a comfortable seven basis points above the benchmark. The dollar, meanwhile, fell against the, and offshore
3. Sterling hits highest since July
The rose to its highest in nearly two months overnight, after a newspaper report gave fresh impetus to hopes that a disorderly "no-deal" Brexit will be avoided on Oct. 31.
The Times of London reported that the Northern Irish Democratic Unionist Party had effectively dropped its opposition to a plan that would leave much of its economy subject to EU rather than U.K. regulation after Brexit, something that gives Prime Minister Boris Johnson more room to work out a compromise on the issue with EU negotiators. The DUP's leader in the House of Commons later denied the report, however.
The pound, which has traded almost exclusively on Brexit risk in recent weeks, rose above $ 1. 24 for the first time since late July and was up 1% against the dollar at $ 1. 2453 by 5: (AM.
4. Michigan Consumer Sentiment due
The University of Michigan's survey at 10 AM ET leads a relatively light day for US economic data. The survey comes a day after the index hit its highest level in 2019 – rising 2.4% year-on-year – in a development that gives ammunition to those arguing against aggressive action from the Federal Reserve next week.
Investing.com's suggests markets no longer view a rate cut next week as a certainty. The implicit probability of action has fallen to 87% from over 92% a week ago.
Federal Reseve Chairman Jerome Powell has argued that uncertainty over trade policy is among the biggest drags on the U.S. economy at present. Any moves to lift that uncertainty would, by that logic, weaken the case for easing.
5. WeWork gets IPO back on the road, WSJ says
WeWork's parent company is set to begin its IPO marketing next week after agreeing to concessions to outside investors on governance issues, the Wall Street Journal reported.
We Company, as it's known, intends to list on the Nasdaq, the WSJ added. There was no further update as regards the prospective valuation, which various reports has been slashed from $ 47 billion to less than $ 20 billion in recent weeks.