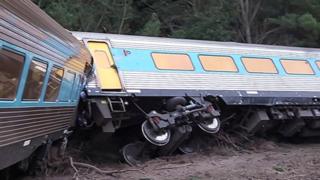 Two people were killed when a Sydney to Melbourne express train derailed near the Victorian town of Wallan, officials say.
Several other passengers were being treated for injuries, emergency services said.
One person was airlifted to a hospital in Melbourne.
Images showed a number of twisted carriages had left the track, with one on its side. It was unclear what caused the train to derail.
Paramedics from Ambulance Victoria said that "a large number of people are being assessed but are not believed to be seriously injured".
They added that four people were being taken to hospital "in a stable condition."
The train was reportedly carrying about
(passengers when it left the tracks at 28: (local time) : (GMT) on Thursday, some (km) 50 miles) north of Melbourne, the Victorian state capital.
It is understood to be the main long-distance service between Melbourne and Sydney.
Victoria's Country Fire Authority (CFA) said that five carriages, along with the train's engine, had derailed and that helicopters and ambulances were at the scene to assess injuries and transport victims.
All train services that run on the affected line – which connects the stations of Seymour and Shepparton – have been cancelled while an investigation takes place.
Australia's Deputy Prime Minister Michael McCormack posted a statement on Twitter announcing that "a full and thorough investigation" would be carried out by the Australian Transport Safety Bureau and the national rail safety regulator.
"Our thoughts are with all those involved and their loved ones," it added.
Were you traveling on the train or in the area at the time? Did you witness what happened if you're willing to do so please share your experiences by emailing [email protected]
Please include a contact number if you are willing to speak to a BBC journalist. You can also contact us in the following ways: WhatsApp: 109 01575879 10725415
Tweet:
@ BBC_HaveYourSay