Good morning, and welcome to our rolling coverage of the world economy, the financial markets, the eurozone and business.
Britain's housing market remains firmly in a rut, as Brexit uncertainty and the prospect of a general election deters people from buying their first home, or moving house.
That's the message from the Nationwide Building Society this morning. Its monthly house price index, just released, shows that prices only rose by 0.4% in the last year.
That makes October the 11 th month in a row where prices have risen by less than 1% – below wage growth and consumer price inflation.
During October alone, prices did rise by 0.2%, reversing a 0.2% decline in September, but the overall picture remains very subdued.
Encouraging for first-time buyers,ifthey have the financial resources and confidence to jump onto the housing ladder. But also a sign that economic confidence remains weak.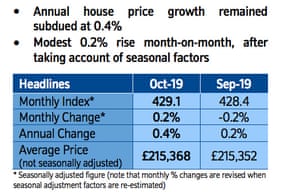 Robert Gardner, Nationwide's chief economist, cites uncertainty over Britain's exit from the EU.
"Indicators of UK economic activity have been fairly volatile in recent quarters, but the underlying pace of growth appears to have slowed as a result of weaker global growth and an intensifying of Brexit uncertainty.

To date, the slowdown has centered on business investment, while household spending has been more resilient.
With Brexit now postponed for another three months, there's no immediate end to this uncertainty …
Gardner also points out that the UK jobs market appeared to soften over the summer, with employment down and unemployment up.
If Brexit uncertainty lifts in the months ahead, hiring is likely to recover, although there may be some upward pressure on mortgage rates as investors once again contemplate the potential for UK rate increases in the years ahead.
Nationwide's warning comes a day after the CBI reported that UK retailers are stockpiling at record levels to cope with Brexit, and the Christmas rush, Many also reported that sales were disappointing – another sign of consumer caution.
More reaction to follow ….
Also coming up today
Optimism that the US and China are making progress towards a trade deal is supporting markets, after Wall Street hit a record high last night.
Kit Juckes of Societe Generale says investors are being tempted back into stocks and emerging market currencies, while selling bonds.
Markets have started the week with equities higher, bond yields rising and risk-sensitive currencies having a blast. The Argentine Peso and Turkish Lira lead the charge this week.
However, Google's parent company Alphabet could dampen the mood after reporting a 23% drop in Profits
Boeing CEO Dennis Muilenburg will face Congress later today over the two Boeing 737 MAX crashes in the last year in which 346 people died. He's expected to admit that the company made mistakes, and pledge to fix the currently-grounded plane.
(The agenda)
9. 30 am GMT: UK mortgage approvals and consumer credit report
1pm GMT: Case-Shiller survey of US house prices in August
2pm BST: US consumer confidence report for October