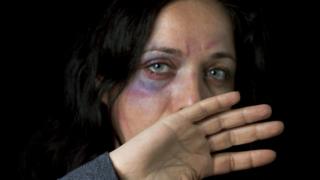 Calls to a national domestic abuse helpline rose by 63% and killings doubled weeks after lockdown, a report by MPs has revealed.
Following the " surge "in violence, the report called for a government strategy on domestic abuse during the pandemic.
MPs also said" safe spaces ", where victims can seek help, should be rolled out to supermarkets and other shops.
The Home Office said it was increasing funding to support helplines and online services.
Researchers at the Counting Dead Women Project told MPs 17 women and two children had been killed in the first three weeks of lockdown.
The figure is the largest number of killings in a three-week period for 11 years and more than double the average rate, they said.
Meanwhile, the number of calls to the National Domestic Abuse helpline run by Refuge was % above average in the second week of lockdown and (% higher than normal after three weeks.)