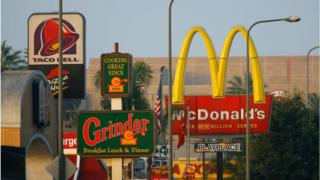 US economic growth slowed in the third quarter, but beat some economists' expectations of a bigger contraction.
The Commerce Department data put GDP growth at 1.9% during the three months, ahead of the 1.6% predicted.
Consumer spending held up better than expected, offsetting a fall in business investment and lower public spending.
But the growth was still the slowest for 2019, and comes hours before the Federal Reserve is due to make its latest interest rate announcement.
GDP growth in the previous quarter – the three months to end-June – was just below 2%. In 2018, the US economy grew by 3.4% in the third quarter.
The Trump administration's trade war with China has eroded business confidence, while the fading stimulus from last year $ 1.5tn tax cut package is also casting a shadow on the expansion.
---
Analysis: Andrew Walker, BBC economics correspondent
For many economists, the biggest worry about the US outlook is the trade conflict with China and others.
The new figures did show some growth in exports after a marked decline in the previous three months. But it was pretty feeble growth.
Imports, many of which are subject to additional tariffs as part of this trade conflict, were also higher , though again not strongly, after two quarters in which they failed to grow at all.
So the figures do play into the story of trade as a continuing problem for US economic growth.
All that said, it was still reasonable growth overall and more or less in line with many estimates of the economy's realistic potential.
That means the economy couldn't really be expected to grow much faster for a sustained period.
---
Wednesday's figures, suggesting resilient consumer spending and strong-than-expected housebuilding, is likely to ease fears that the US will enter recession.
Growth in consumer spending, which accounts for more than two-thirds of US economic activity, slowed to a still-healthy 2.9% rate las t quarter after surging at a 4.6% pace in the second quarter, the fastest since the fourth quarter of 2017. Consumer spending is being powered by the lowest unemployment rate in nearly 50 years.
Ian Shepherdson, chief economist at Pantheon Macroeconomics, said the growth figures "could have been worse" but the *** quarter "probably will be".
"Growth beat consensus mostly because consumption rose at a 2.9% rate.
"We doubt that Q4 [the fourth quarter] will see such a solid increase in consumption, not least because the chainstore numbers indicate that people pulled forward spending after the 1 August announcement of tariffs on imported Chinese consumer goods. This boosted Q3 spending at the expense of Q4. "
Rate cut?
Ina tweeton Wednesday before the growth figures were released, US President Donald Trump boasted of the "Greatest Economy in American History".
But in 2012, when Barack Obama was president,he had warnedthat a 1.9% growth rate spelled "deep trouble".
Ahead of the GDP figures, US Treasury Secretary Steven Mnuchin said global growth is slowing and has had a modest impact on the US, adding the US economy remained strong with good capital inflows.
"There is no question that the global economy is slowing down and that has had some modest drag on the US economy, "he said at an investment conference in the Saudi Arabia capital Riyadh.
Later on Wednesday, the US central bank was expected by man y economists to wrap up its two-day policy meeting with an announcement of a cut in interest rates.
"Nothing in today's report will surprise the Fed, "said Sal Guatieri, a senior economist at BMO Capital Markets. "The capital expenditure crunch stemming from the trade war will motivate a third rate cut. However, a still-sturdy consumer could give reason for pause at future meetings."