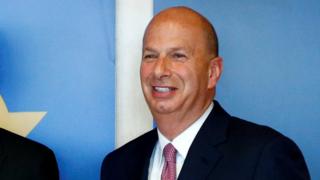 A top US envoy has told a congressional impeachment inquiry that he was "disappointed" in President Donald Trump over Ukraine.
Ambassador to the EU Gordon Sondland's opening statement said he questioned the involvement of Mr Trump's personal lawyer Rudy Giuliani in Ukraine policy.
Mr Trump is accused of pressuring Ukraine to investigate Joe Biden, one of his rivals for the presidency.
It is the latest interview in the impeachment inquiry into Donald Trump.
The Democratic-led inquiry is trying to establish whether the Republican president withheld nearly $ (m) £ 327 m) in aid to nudge Ukraine's president into launching an inquiry into Mr Biden – who is running for the Democratic presidential nomination.
What did Mr Sondland's opening statement say?
Mr Sondland is testifying before House of Representatives committees behind closed doors.
In a prepared opening statement, he said he and colleagues were "disappointed by the president's direction that we involve Mr Giuliani".
"Our view was that the men and women of the state department, not the president's personal lawyer, should take responsibility for all aspects of US foreign policy towards Ukraine. "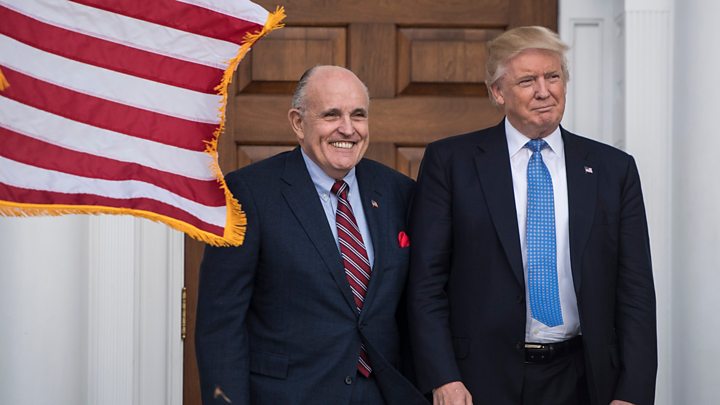 Mr Sondland's statement says he and colleagues chose to do as the president had asked.
"But I did not understand, until much later, that Mr Giuliani's agenda might have also included an effort to prompt the Ukrainians to investigate Vice-President Biden, "his statement reads.
" Inviting a foreign government to undertake investigations for the purpose of influencing an upcoming US election would be wrong. I did not and would not ever participate in such undertakings. "
The US ambassador to the EU is seen as a key figure in the impeachment inquiry. Texts that were recently made public showed him discussing efforts to pressure Ukrainian leaders to investigate corruption claims with other US diplomats.
The ambassador was initially scheduled to appear before congressional investigators on 8 October.
But the Trump administration blocked his appearance at the last minute, despite Mr Sondland flying over to Washington from Brussels.
A statement from his lawyer at the time said the ambassador "believes strongly that he acted at all times in the best interests of the United States, and he stands ready to answer the committee's questions fully and truthfully ".
Who is Gordon Sondland?
Mr Sondland is a Seattle-based hotelier who donated $ 1m to the Republican president's inauguration committee.
He had no diplomatic experience, US media report, before Mr Trump nominated him to his position as ambassador in May.
Despite being a long-time Republican, the 61 – year-old once worked on the transition team of the Democratic governor of Oregon in 2003
(In 2016, Mr Sondland was a Jeb Bush supporter and criticized Mr Trump over his anti-illegal immigration stance, though he became a Trump ally after his election win.
Quick facts on impeachment
Impeachment is the first part – the charges – of a two-stage political process by which Congress can remove a president from office
If the House of Representatives votes to pass articles of impeachment, the Senate is forced to hold a trial
A Senate vote requires a two-thirds majority to convict – unlikely in this case, given that Mr Trump's party controls the chamber
Only two US presidents in history – Bill Clinton and Andrew Johnson – have been impeached but neither was convicted and removed
President Nixon resigned before he could have been impeached