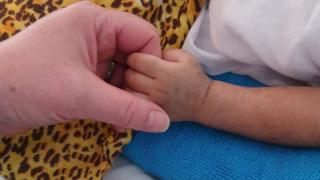 British doctors and nurses are sacrificing a relaxing Christmas with friends and family to help save lives in a deadly measles outbreak on the other side of the world.
The Pacific island of Samoa has been overwhelmed by more than 5, (cases of the disease.)
Seventy-nine
people have died, nearly all of them are children under five.
The British medics are working alongside local teams and volunteers from around the world.
"It's quite something when you see a ward full of people with measles, they look so sick, it's not something we're used to," Dr Rachel Anderson, an A&E consultant in Edinburgh, told the BBC .
"To my knowledge, I'd never seen measles … you feel like you've got a bit of catching up to do. "
Rachel was on call with the UK Emergency Medical Team.
The organization deploys NHS staff to emergencies around the world.
It sent doctors and nurses to tackle diphtheria spreading through Rohingya refugee camps in Bangladesh last year and to help with the massive Ebola outbreak in West Africa in – .
Measles led the Samoan government declared a national emergency in November.
Vaccinations were made compulsory, schools were closed and restrictions on public gatherings put in place in an attempt to control the virus.
People have been hanging red flags outside their homes to highlight the fact they have not been vaccinated.
*** Rachel was asked if she could drop everything for the more than 30 – hour trip to Samoa.
"It was a bit tricky because it was over Christmas, I had a couple of days debating it, but felt I should go given the devastating effect measles is having here, "she said.
It means missing Christmas with her husband , stepson and the rest of the family. She was supposed to be cooking dinner for 31. The Manchester City fan also had to give up tickets to two football matches over the festive period.
She said: "I've had the odd moment when jet-lagged and overwhelmed seeing all these children, but most of me is glad I'm here.
"My husband and are family very supportive, they'd have been surprised if I had not gone. "
Rachel is one of 13 members of the UK Emergency Medical Team currently in Samoa.
International Development Secretary Alok Sharma said: "While the majority of us are able to Enjoy Christmas with our families, this dedicated team of British medics are carrying out lifesaving work in the South Pacific.
"Their generosity and skills will ensure that infected children get the treatment they need over the Christmas period to prevent more families losing loved ones to this deadly disease. "
****************** (Follow James******************** (on Twitter*********************

**************

**************************

Read More******************************