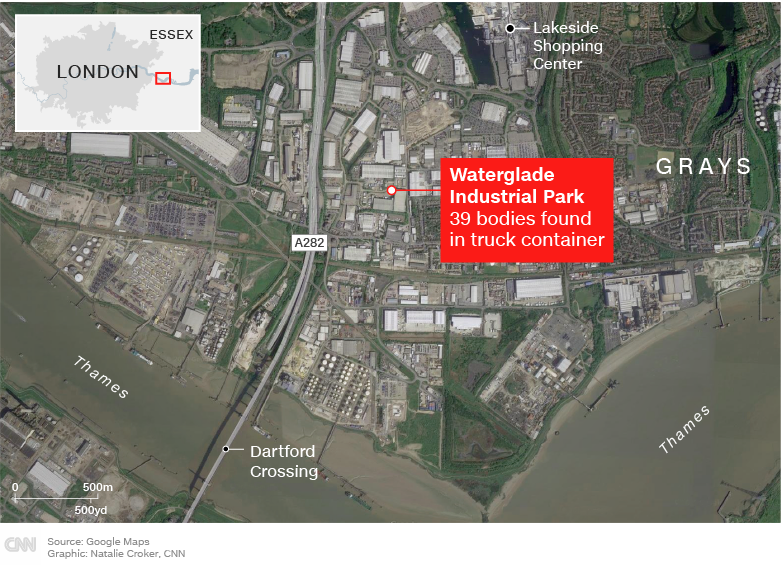 Authorities locked down the scene at the industrial park in Grays, east of London, quickly on Wednesday. Police erected green fencing around the truck to block it from onlookers, according to a CNN team on the ground.
Meanwhile fire and emergency support services are also working the site.
The wider industrial estate is made up of courier and logistics companies, PA news agency reported citing Dan Peters, a managing director of Pirtek, a hydraulic maintenance company based on the street the truck was found.
"Obviously, it's terrible news," Peters said. "We're not able to gain access to our units to open up for daily business."
Following PMQs, Home Secretary Priti Patel updated the House of Commons on the latest developments in the investigation. She expressed her sympathy for the victims and paid tribute to the emergency response workers for their efforts.
"I think the whole House will agree this is truly a truly shocking incident. My thoughts and all thoughts and condolences are with the victims and their loved ones at this utterly terrible time, "Patel said.
Patel said she had asked Home Office officials "to work closely with the investigation, providing all assistance we can in these horrific circumstances."
Boris Johnson has been speaking in the UK House of Commons on Wednesday lunchtime during Prime Minister's Questions.
Local Thurrock lawmaker Jackie Doyle-Price said: "To put 39 people into a locked metal container shows a contempt for human life that is evil. The best thing we can do in memory of those victims is to find the perpetrators and bring them to justice. "
In response, the PM said:
I must say I do share [Doyle-Price's] strong desire now for the perpetrators of that crime, and indeed all those who engage in similar activity – because we know that this trade is going on – all such traders in human beings should be hunted down and brought to justice. "
TaoiseachLeoVaradkartold Ireland's parliament Wednesday the incident in southeast England was a "tragedy" before promising to "carry out any investigations that are necessary if it's established the truck passed through Ireland."
Earlier a spokesperson for Irish police told CNN it was "monitoring the developing investigation in the UK and will provide every assistance possible."
UK police have confirmed 39 people were found in a truck in an industrial estate east of London. The investigation has only just gotten underway but here's what we know:
When the bodies were discovered? Local police were called to the scene at Waterglade Industrial Park in Grays, Essex, by ambulance services shortly before 1. 40 am local time on Wednesday. It is unclear who alerted the ambulance personnel. Emergency services pronounced all 39 people dead at the scene.
Who are they?Preliminary signs point to 38 adults and one teenager, Essex Police said in a statement. "At this stage we have not identified where the victims are from or their identities," Pippa Mills, Essex Police Deputy Chief Constable, said a short while ago.
The truck came from Bulgaria: Police have said they believe the truck entered the UK through the Welsh port of Holyhead over the weekend. The route has been described as an unusual but some haulage industry experts have suggested this may have been in a bid to dodge stricter border checks at Calais and Dover.
One man has been arrested:A 25 – year-old man from Northern Ireland has been arrested on suspicion of murder, the police statement added.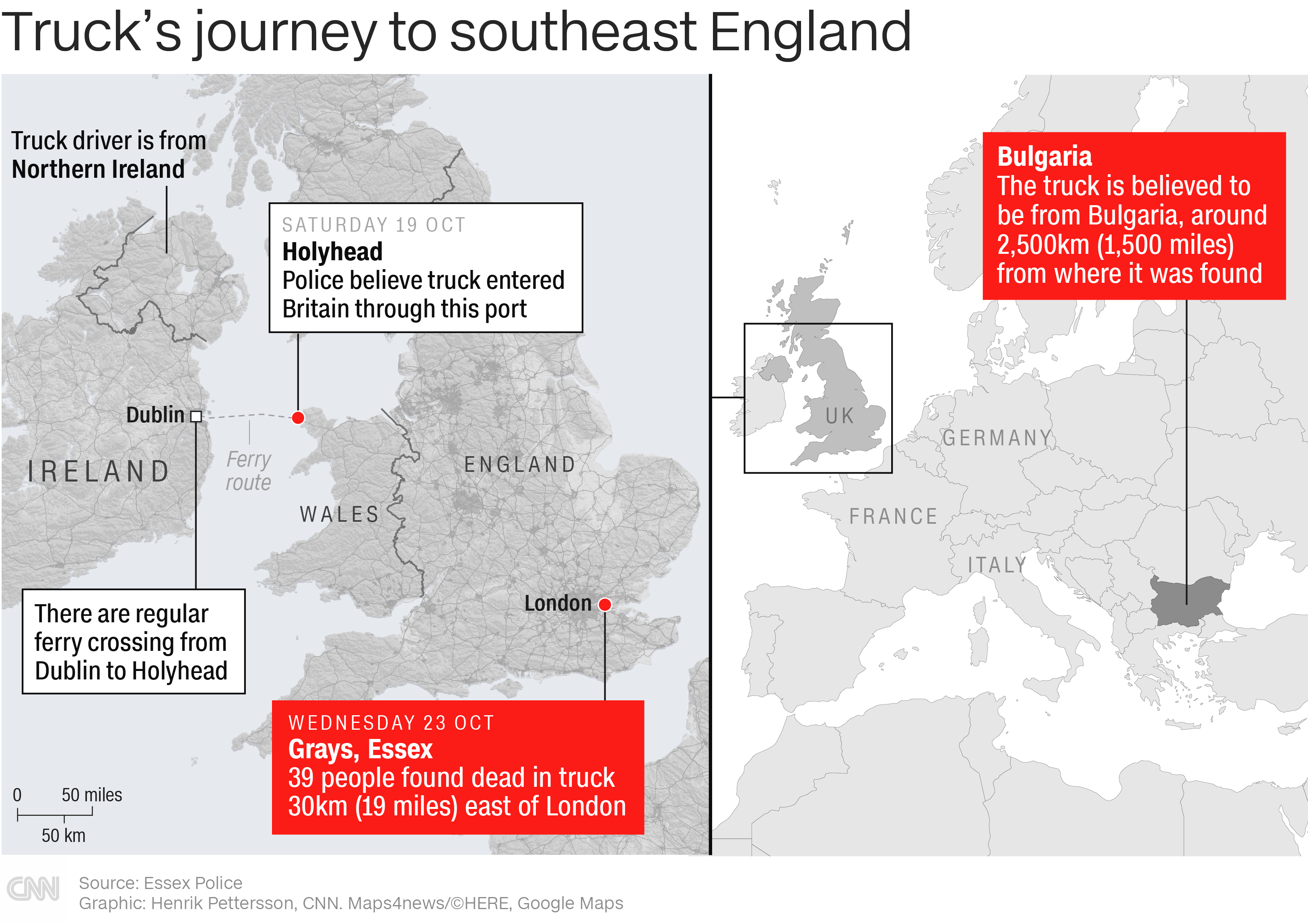 Deputy chief constable Pippa Millshas just briefed reporters for the first time since news emerged of 39 bodies found inside a container of a truck in the early hours of Wednesday morning.
Mills described the incident as an "absolute tragedy" and said that officials had not been able to identify the individuals or where they may have come from at this stage.
"The identification of the victims remains our number one priority," she said, adding that it could be a lengthy process. Mills appealed to the public to come forward with any information.
She also said it was a "complex scene" with authorities working to follow lines of inquiry.
In the wake of the tragic discovery in Essex this morning, several UK lawmakers are taking to social media to convey their condolences.
Arlene Foster, leader of the Democratic Unionist Party wrote:
Anna Soubry, leader for the Independent Group for Change, urged people to avoid speculation and allow authorities to conduct their investigations.
Aerial footage from the scene in the industrial park in southeast England shows the truck, where 39 bodies were found, behind a taped cordon.
One tent has been erected at the rear of the vehicle and officers in white jumpsuits can be seen walking around the site. A second tent has been pitched up in front of the truck with police vehicles parked nearby.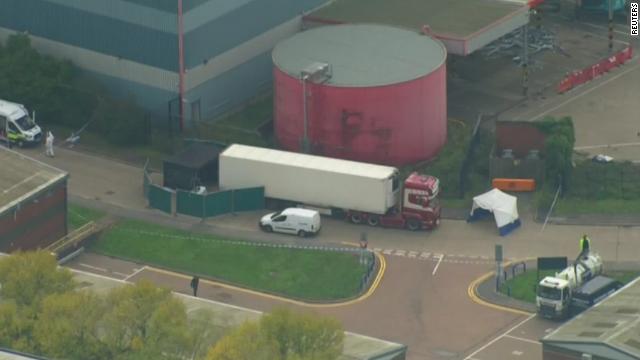 Part of the line of inquiry for UK authorities is working out where the truck came from and how it ended up in an industrial park east of London.
Local police have said that they believe the truck originated from Bulgaria and that it entered Britain through the Welsh port of Holyhead over the weekend. A regular ferry service connects Holyhead with the Irish capital of Dublin.
"If the lorry came from Bulgaria, getting into Britain via Holyhead is an unorthodox route," Seamus Leheny, Northern Ireland policy manager for the Freight Transport Association (FTA) told PA news agency.
"People have been saying that security and checks have been increased a places like Dover and Calais, so it might be seen as an easier way to get in by going from Cherbourg or Roscoff, over to Rosslare, then up the road to Dublin.
"It's a long way around and it'll add an extra day to the journey, "Leheny added.