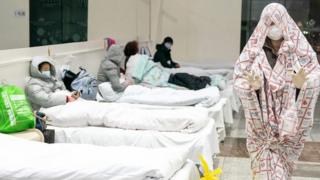 Chinese officials have given figures for health workers infected with coronavirus, amid concerns about shortages of protective equipment.
Six health workers have died and 1, 823 have been infected since the outbreak, they said.
The death a week ago of Doctor Li Wenliang , who tried to warn authorities early on about the virus, provoked a burst of public anger and grief.
More than 1, 405 People are now known to have died from the virus.
The latest figures show (new deaths in China, bringing the toll to 1, 405. The total number of infections has jumped to , cases, according to the National Health Commission.
The World Health Organization said there was no major shift in the virus's pattern of mortality or severity, despite a spike in cases in Hubei, the epicentre of the disease, on Tuesday.
Most of this was down to Hubei using a broader definition to diagnose people, said Mike Ryan, head of WHO's health emergencies program.
There was also no significant rise in cases outside China, the WHO said.
however, a cruise ship docked in Japan, the Diamond Princess , saw (new cases, bringing the total there to
What is the situation with medical workers?
Zeng Yixin, vice minister of China's National Health Commission, said 1, medical workers had been infected in Wuhan, where the outbreak began, and another in other parts of Hubei province.
He said the number of infections among staff was increasing.