33 mins:England are matching Germany finally and look dangerous going forward, something they could not claim in the opening 20 minutes.
29 mins:Walsh plays a lovely pass out to Mead on the left wing, allowing the Arsenal player to attack the full-back and lift in a cross, which is turned behind by defender. England are trying to be smart with their corners – this one is played shot and back to Mead who whacks it straight out for a goal kick.
27 mins:The crowd get very excited very time England instigate an attack but also seem deeply worried whenever they have to defend.
Here is Germany's opener …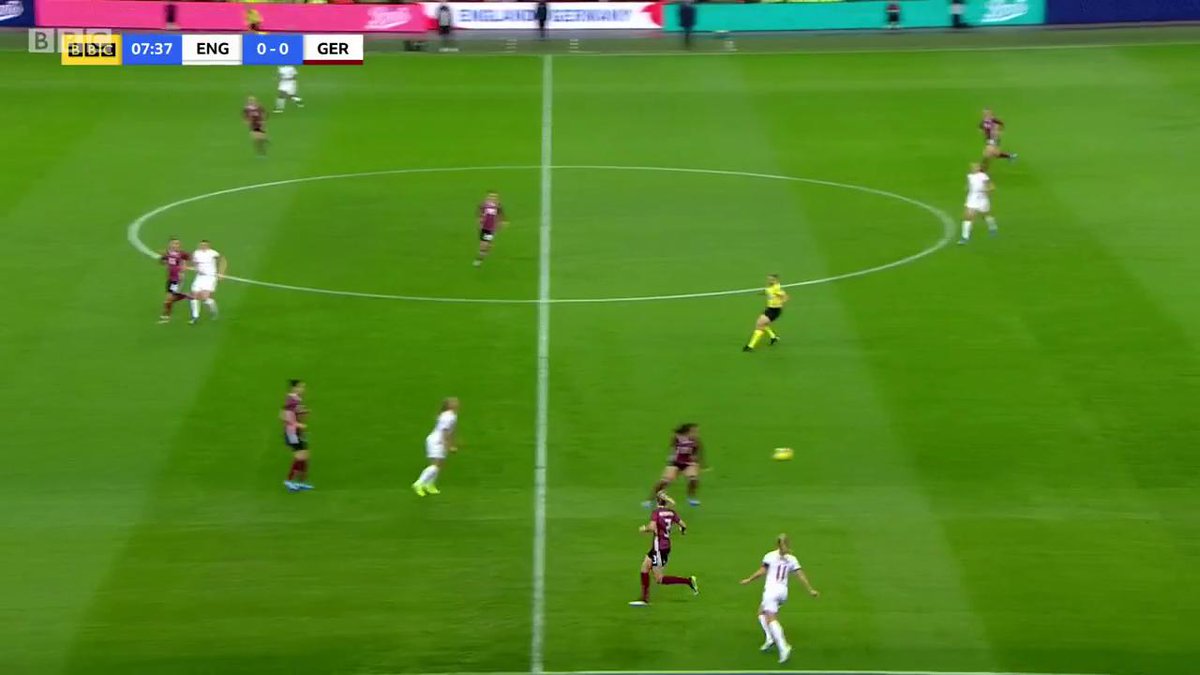 25 mins:Germany break on England from a corner, ending with Buhl cutting into the area and hitting a low shot at goal but Earps gets down well and holds on.
C Noyes has been on again: "Possibly a good time to mention that the USA's second goal in the WC semifinal came from several failed attempts to play out of the back. Lionesses lost possession and did not recover it until Telford stooped down to pick the ball our of her own net. Not sure what Phil's playing at. "
23 mins:Houghton takes matters into her own hands and whacks a long ball for White to compete for. England then win the second ball but White is tackled, it might have been a foul, and the ball is turned over. Then Parris gets round the back of the defense and pulls a cross back from the byline but it's turned behind. This is the first bit of intent England and shown and they need to keep it up.
21 mins:Phil Neville is shouting a lot on the touchline . More terrible defending from England, allows Buhl to collect the ball in space 20 yards from goal, turn and fire a shot off which flies well wide.
19 mins:Williamson plays a 30 – yard pass across the box to Houghton which she just about gets to first but is then dispossessed on the edge of the box, needlessly putting pressure onto the defense. Some of England's thinking at the back defies logic.
Germany get a corner which results in some pinball inside the box but England just about manage to get it clear after a few shots at goal.