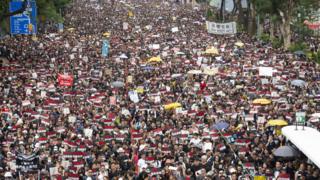 A few months ago a Chinese official asked me if I thought foreign powers were fomenting Hong Kong's social unrest.
"To get so many people to come to the streets," he mused, "must take organization, a big sum of money and political resources."
Since then, the protests sparked at the beginning of Hong Kong's hot summer have raged on through autumn and into winter.
The massive marches have continued, interspersed with violent violent pitched battles between smaller groups of more militant protesters and the police.
) The toll is measured in a stark ledger of police figures that, even a short while ago, would have seemed impossible for one of the world's leading financial capitals and a bastion of social stability.
More than 6, arrests, 16, (tear-gas rounds) , rubber bullets.
As the sense of political crisis has deepened and divisions have hardened, China has continued to see the sinister hand of foreign meddling behind every twist and turn.
The 'gray rhino'
In January, China's supreme political leader Xi Jinping convened a high-level Communist Party meeting focused on "major risk prevention".
He told the assembled senior officials to be on their guard for " black swans "- the unpredictable, unseen events that can plunge a system into crisis. But he also warned them about what he called "gray rhinoceroses" – the known risks that are ignored until it's too late.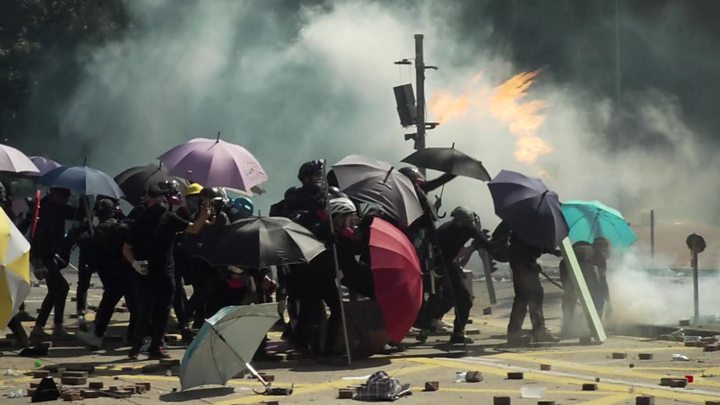 No-one could be in any doubt that the Umbrella Movement, with its demands for wider democratic reform, was back with a vengeance.
The few concessions – first the suspension and finally the withdrawal of the bill – came too late to stop the cycle of escalating violence from both the protesters and the police.
Beijing is right to point out that there are plenty of Hong Kongers who deplore the mask-clad distinguished building barricades, vandalising public property and setting fires.
Some of them are ardent supporters of Chinese rule, others are simply being pragmatic, believing that violence will only provoke the central government into intervening more strongly in Hong Kong's affairs.
But the authorities were stunned last month by a test of the true strength of those viewpoints, when – on a record turnout in local elections – the pro-democracy camp swept the board.
The poll gave its candidates almost (***************************************************************% of the total share of the votes.
At first there was an astonished silence from mainland China, which had genuinely thought the pro-Beijing side would win.
The initial news reports mentioned only the conclusion of the voting, not the results, but then came a familiar refrain.
The state-run Xinhua news agency blamed "rioters" conspiring with "foreign forces".
"The politicians behind them who are anti-China and want to mess up Hong Kong reaped substantial political benefits," it said.
As proof of interference,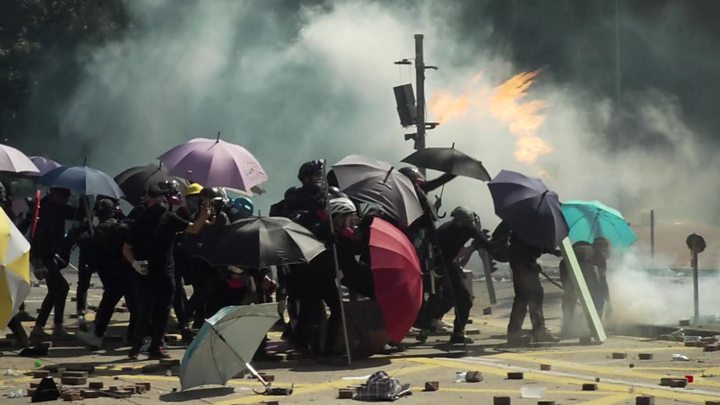 China cites cases of for eign politicians voicing support for democracyor raising concerns about its erosion under Chinese rule.
It has also blamed Washington for passing a lawmandating an annual assessment of Hong Kong's political freedoms as a pre-condition for continuing the territory's special trading status.