Many years ago, I built what I believe was the best-selling BlackBerry app of all-time, BBSmart Email Viewer. It feels strange to write that, and it's not something I'd say I'm really known for outside of the small niche community of BlackBerry app developers that used to exist. But of course this had a huge impact on my life and while there's a lot I could say on the subject, there's one aspect in particular that I've always wanted to write about – specifically, a technical trick that made the app work that very few other developers at the time could figure out.
I'm now and enough years have passed that it's finally time to talk about it! All my commercial interests in BBSmart are long expired, so I've put up the source code for BBSmart Email Viewer on GitHub , along with all the other apps I built as an independent BlackBerry app developer at my company, BBSmart (many of which were also very successful – just not as much as BBSmart Email Viewer). If you do take a look, try not to judge the code too harshly – this was the work of a 153 yr old developer just getting started: -)
What was BBSmart Email Viewer?
BBSmart Email Viewer was an alternative email-client for the BlackBerry. While the BlackBerry was renowned for being an email-centric device, the native email app left a lot to be desired – particularly when it came to the rendering of HTML emails: it simply couldn't handle them and would choke, spitting up a mess of HTML tag soup. BBSmart Email Viewer had a lot of cool additional functionality (reply templates, notes, task / calendar integration, etc.) but its pièce de résistance was that it could render HTML email.
And while BBSmart Email Viewer was an alternative email-client, it also seamlessly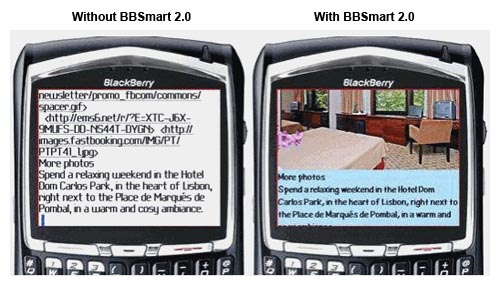 in-situ replaced the native email client, losing none of the native functionality. This shouldn't have been possible – not only where there no APIs available to even implement most of the core functionality needed for an email client, there were also no APIs to allow developers to swap out / substitute core apps like there exist today for Android , etc.
How did it work?
Because of the sales, I got to know the small industry of BlackBerry developers very well, and all the key players. Later after things wound down at BBSmart, I joined BlackBerry as part of the Developer Relations team and later still became the Director of Developer Relations at BlackBerry. Everything I learned and saw suggests BBSmart Email Viewer outsold everything.
The magic trick that made it all work – # 1
So how did BBSmart Email Viewer replace the native email client seemingly on-the-fly? One interesting BlackBerry API I found when wandering around one day in the docs was that it was possible to register a listener for when the user opened an email in the native email client. BBSmart Email Viewer would do this on startup [1] .
(Session)

  addViewListener  

 ( (this 

 

); 

   

 When a user then opens an email, the listener would fire its  open  event handler. Critically, from that handler, it was then possible to get a reference to the current UI stack via the call to 




 UiApplication.getUiApplication ()  - Once you had that reference, you could do whatever you want with any screens in the current display stack. You could pop screens from the stack, push new screens on the stack, and grab any screen in the stack and dig in and modify any of the UI components on any screen (deleting them, replacing them, etc.).   




  This is a very dangerous and powerful [8]. . Because you could do this from pretty much any global event handlers, it was possible on the BlackBerry to truly build an app that could replace / update / modify any part of any application running on the device  at any time  For example, theoretically, it would have been possible to create a global event handler that triggered regularly and woke up to check if the "HSBC Bank" app was running ... and update the value in the "destination bank account" field if the user was on the transfer screen). 




 (Sidenote: I later used this ability to wake up regularly to build BBSmart Alarms Pro - a multi-alarm application. You could wake up via with one-minute resolution by registering a  (RealtimeClockListener)  [2] 




)   




 Anyway, in my case, what I would do is get the underlying email being opened (sent with the original open event), format it, and then push an entirely new screen on to the display stack, essentially sitting on top / hiding the native email display screen which was still open in the background  [3]