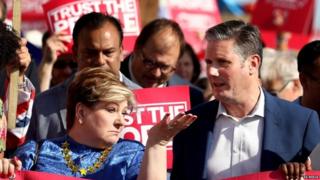 Jeremy Corbyn is coming under pressure amid divisions over Labor's Brexit strategy as leading figures call for the party to back staying in the EU.
Shadow foreign secretary Emily Thornberry said Labor must "say no" to leaving the EU at its party conference.
And deputy leader Tom Watson said it must settle its position as "a Remain party" once and for all this week.
But Unite leader Len McCluskey said anyone who could not support Jeremy Corbyn's position should stand aside.
He said talk of divisions were "fake news" given that Labor had a policy of giving the public the final say in another referendum which the shadow cabinet could unite around.
The party's NEC, or governing body, has agreed a motion which calls for the party to renegotiate the current terms of exit and then give voters the choice to back the new Brexit deal or to remain in the EU.
Mr Corbyn has persistently refused to be drawn on which way he would campaign in another vote, saying it would depend on the kind of agreement he struck.
Labor will also decide the terms of further motions on Brexit, which could call for the party to endorse
The exact wording of the motion to be debated will be decided later on Sunday and voted on Monday.
'Simple truth'
Mr Corbyn is under growing pressure to declare his hand from pro-EU figures in the party.
Addressing a rally organized by the Progress group in Brighton, Mr Watson – who saw off an attempt to oust him on Saturday – said the "simple truth is whatever anyone says – Labor is a remain party ".
Calling on the leadership to" to settle once and for all our position ", he said by backing remain "I'm sure we can deliver a Labor government".
And Ms Thornberry questioned "why on earth" Labor would be complicit in allowing the UK to leave the EU.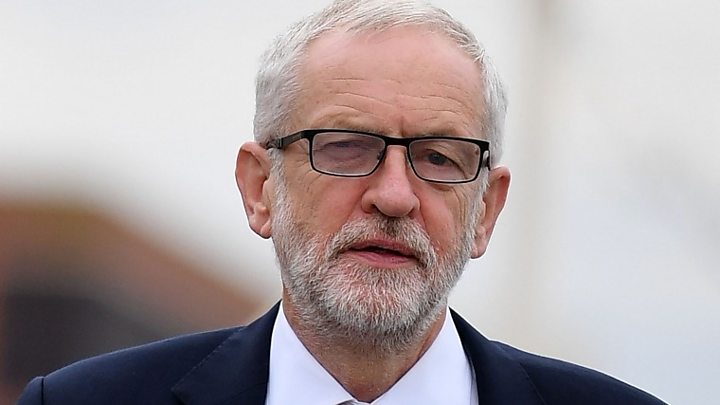 "Are we going to celebrate a Labor version of Brexit? No. We must have the Labor Party this week saying no to Brexit and we must lead the campaign to remain."
Speaking on the BBC's Andrew Marr show, Mr Corbyn acknowledged that most Labor supporters backed staying in the EU.
But he said the party needed to show more understanding of why the country voted leave and even if the UK were to remain in the EU, there needed to be serious reform.
Mr McCluskey, a key ally of Mr Corbyn, appealed for loyalty on the issue, saying the party must go into the looming general election "united".
"When we have a policy on Brexit and Jeremy Corbyn makes it clear that that is the policy, then that's what leading members of the shadow cab inet should argue for, "he told Sky News.
" If they find they can't argue for it because they feel strongly, well, of course they have that right but they should step aside from the shadow cabinet… and they can argue whatever they want. "