Surge of mis-selling claims before August deadline slashes quarterly profit from £ 1.8bn to £ 50 M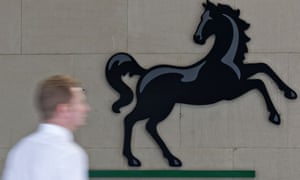 Lloyds Banking Grouphas put aside a further £ 1.8bn to cover a surge in payment protection insurance (PPI) complaints before the August claims deadline, which nearly wiped out its quarterly profit.
Including the PPI charge, the bank's profit before tax slumped to £ 50 m for the three months to 30 September, from a profit of £ 1.8bn in the third quarter last year. The result was weaker than expected.
The latest charge is at the top end of estimates, and takes the group's total bill to £ 21 8bn. PPI has become the banking industry's biggest mis-selling scandal and Lloyds accounts for the lion's share of the total bill, which has risen to £ 48 bn and is expected to top £ 50 bn.
Lloyds shares were the biggest faller on the FTSE 100 index in early trading, dropping 2.7% to (p.
The City regulator had set a 29 August deadline to make a claim for compensation for mis-sold PPI, which sparked a surge in complaints in the final weeks, prompting Lloyds to suspend a share buyback program. PPI was sold alongside loans and mortgages to cover repayments if customers fell ill or lost their jobs, but the insurance was often sold to people who did not want or need it.
António Horta-Osório, the chief executive, said: "I am disappointed that our statutory result was significantly impacted by the additional PPI charge in the third quarter, driven by an unprecedented level of PPI information requests received in August. "
William Chalmers, the bank's new chief financial officer, said the charge reflected its "best estimate of what PPI might come out as" but he could not rule out further provisions. "When George walked out the door he said:' Never say never 'on the issue," he quipped about his predecessor, George Culmer.
Royal Bank of Scotland took a £ 900 m PPI chargelast week, which pushed the 62% – state-owned bank into a quarterly loss of £ 8m.Barclays set aside a further £ 1.4bnand reported an 80% plunge in profits.
Lloyds also said its chairman, Lord Blackwell, would retire at or before next year's annual meeting, after serving nine years on the board, including seven as chairman. The firm's chief operating officer, Juan Colombás, will step down in July after four years in the job.
Richard Hunter, head of markets at investment platform interactive investor, said: "The shares have had the benefit of a 'Brexit bounce' of late, rising 9% in the last three months as perception switched to ruling out the likelihood of a no-deal Brexit. That particular cloud will not be lifted in the immediate future, and on balance the third quarter numbers were largely uninspiring. "