: 30
This is from ITV's Robert Peston
. Robert Peston) (@Peston)
This is the best measure I've seen of quite how few (# COVID) tests the UK has done. It is an international league table of countries ranked by percentage of population tested, compiled by Julian Ozanne (who was on FT with me in another life). The UK comes (th out of
27 pm BST :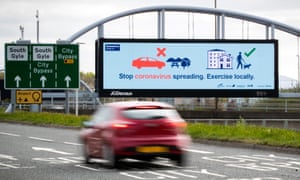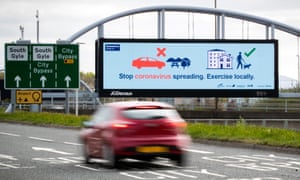 A billboard poster advising people to exercise locally above the A8 in Edinburgh. Photograph: Jane Barlow / PA

. (pm) BST : 20 Lucy Campbell

Thank you so much to everybody who has been in touch throughout the morning with tips and suggestions. I love reading through them all, especially the ones thanking the Guardian for its coverage of this crisis. Please do continue to get in touch as the day goes on via the usual channels (below) and apologies if I cannot respond to you all individually.

Email: [email protected] (Twitter:@ lucy_campbell _

27. 15 pm BST :
This, from the FT's
Peter Foster , is one of the best things you will read today. In essence:
DC John Coker has died in hospital after coming down with symptoms of coronavirus on March , British Transport Police said.
In a statement, BTP Chief Constable Paul Crowther said his thoughts were with Coker's family after the – year-old passed away last night following an "incredibly difficult" three weeks. He said: