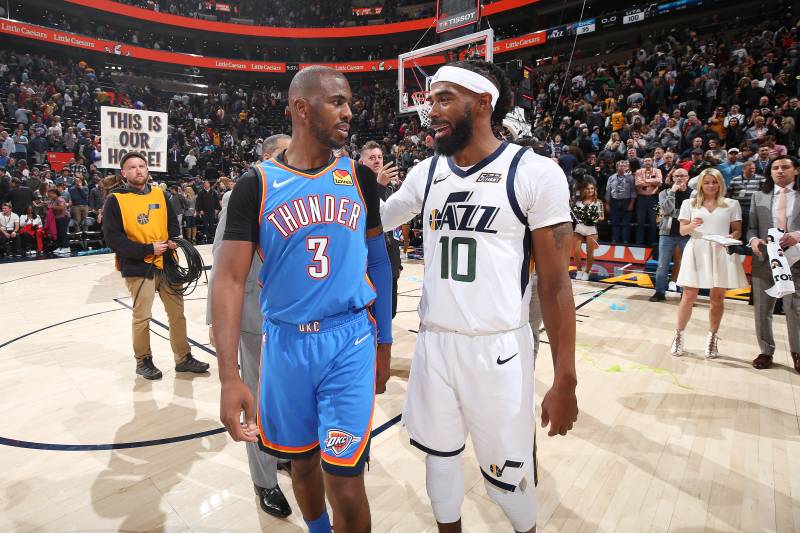 David Sherman / Getty Images
(Trae Young
@ TheTraeYoung
If I'm gonna lose, I'm gonna have to lose to a Legend 🤷🏽‍♂️ and a mentor of mine✊🏽 Good Game … but believe me, we running it back next time I come visit you in Denver @ 1MrBigShot Deal? 💯🤣 #ImReadyToPlayForealAgain
Catchings at least gave Conley a letter, which is more than Paul Pierce can say about his matchup with LaVine. While LaVine couldn't dunk, he found a loophole of sorts with a handful of layups that the retired Pierce — who was playing in the rain — could not match. LaVine touched the backboard on one side and reversed it in from from the other side on one layup and then dropped the ball in from above the rim with his left hand on another. Just for good measure, he drilled a shot from out of bounds to give Pierce the final letter.
(Chicago Bulls
@ chicagobulls
"HE MADE IT?" @ZachLaVine from out of bounds! 💰 https://t.co/GjFeUJd0Yi
Quigley kept the Chicago momentum rolling following LaVine's win with an impressive showing against Chris Paul. The backboard was the Chicago Sky sharpshooter's friend, as she mixed in a number of bank shots and built a quick 4-1 lead in letters. She even banked one in while sitting on the ground, despite pleas to the contrary from the Oklahoma City Thunder point guard:
Paul busted out the trick shots to stay alive With a one-legged turnaround attempt, one from behind the backboard and a one-handed / one-legged free throw. However, Quigley made the behind-the-backboard shot and free throw before she eliminated him with a banked free throw of her own. The semifinals and finals both air on Thursday, starting at 9 pm ET.