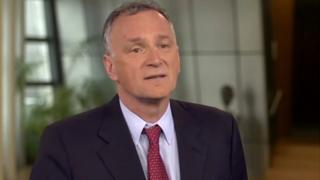 The president of the European Union's ERC scientific research council has resigned after three months in the job with an attack on the EU's scientific governance and political operations.
Mauro Ferrari said he had lost faith in the system after he failed to set up a special program to fight coronavirus.
But the research council said later his resignation followed a written, unanimous vote of no confidence.
It said it regretted Prof Ferrari's comments.
"Since his appointment, Professor Ferrari displayed a lack of engagement with the ERC, failing to participate in many important meetings, spending extensive time in the USA and failing to defend the ERC's program and mission when representing the ERC, " it said in a statement .
The EU's executive insisted it had the most comprehensive measures to combat the virus.
One MEP had earlier been quoted accusing Prof Ferrari of taking a "window-dressing public relations stand".
Media caption The BBC's Gavin Lee took a road trip in Europe's Schengen area to see how free movement has changed

After Prof Ferrari's resignation, German MEP Christian Ehler told the Science Business website that Prof Ferrari's proposals contradicted the legal basis of the ERC and were a "window-dressing public relations stand on the coronavirus crisis".
One of the conditions for an ERC grant is that scientists apply for funding on a "bottom-up" basis for research either in a public or private research organization.
A Commission spokesman said more (ERC projects had been involved in fighting the Covid-) (pandemic and) research and development proposals had been selected.- across a variety of scientific fields from virology to social behavior.
Prof Ferrari said it was time for him to return to "the frontlines of the fight against Covid – , with real resources and responsibilities, away from offices in Brussels, where my political skills are clearly inadequate. "
The Commission said it was grateful for Prof Ferrari's" strong personal investment "and wished him well for the future.