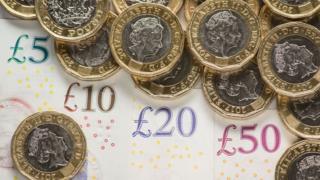 The Conservatives have raised £ 5.7m in the first week of the official election campaign, according to the Electoral Commission.
The Tories received 87% of registered donations in that period, figures show, while Labor raised a total of £ 218, 500.
The Lib Dems received £ 275, 000, whilst the Brexit Party raised £ 250, 000.
But the figures do not represent all donations, as only those above £ 7, 500 have to be reported.
The biggest gift to the Tories was £ 1.5 m from theater producer and regular donor John Gore.
Meanwhile the biggest donation to Labor was £ 62, 000 from the Unite union, led by Jeremy Corbyn ally Len McCluskey.
BBC political editor Laura Kuenssberg said the figures for registered donations showed an "astonishing gap in fundraising".
The discrepancy between the two main parties is even wider than in the first week of the 2017 campaign, when the Tories raised £ 4.1m in comparison to the £ 2.7m received by Labor.
In the first week of the current campaign, the Green Party raised £ 30, 000 – half the £ 60, 000 raised by the Alliance Party of Northern Ireland.
This is the first UK-wide election when pre-poll donations and loan reports have been published for parties in Northern Ireland.
Donations received during the other weeks of the five-week official election campaign will be detailed in later releases.
For Labor, 70% of registered donations came from unions. The party says it also raised £ 1m in small donations from supporters in the 10 days after the election was confirmed.
For the Conservatives, 47% of the party's donations came from individuals, with the remainder coming from companies.
The party received £ 500, 000 from investment firm WA Capital and the same from property company Countywide Developments.
Another Tory donor, Lubov Chernukhin, the wife of a former minister for Russian President Vladimir Putin, gave £ 200, 000 in the same period.
The biggest donor to the Lib Dems was wealth management firm Attestor Services, which gave £ 75, 000.
Financier Jeremy Hosking, a former donor to the Vote Leave campaign, was the biggest donor to the Brexit Party with £ 250, 000