Hundreds of Iraqi protesters have broken down the gate of the US embassy in Baghdad as they attempt to storm the compound.
(Crowds have been gathering outside the building for hours overcontroversial American airstrikesthat killed fighters of an Iran-backed militia.
Gunfire has been heard at the scene and there are reports of tear gas, and an Associated Press journalist has reported seeing flames rising from inside and at least three US soldiers on the roof of the main building.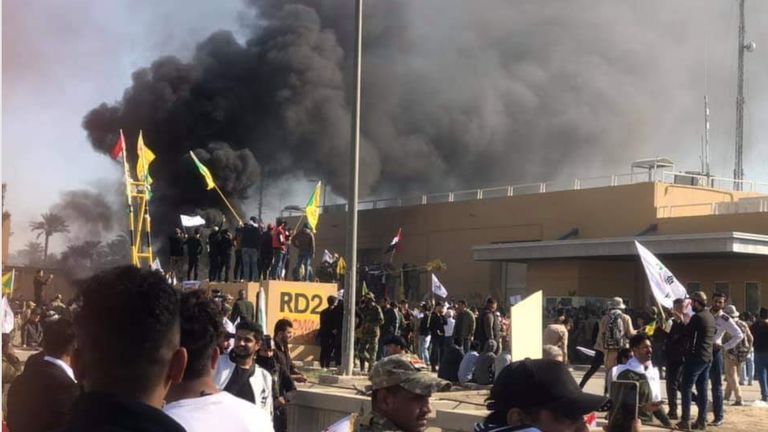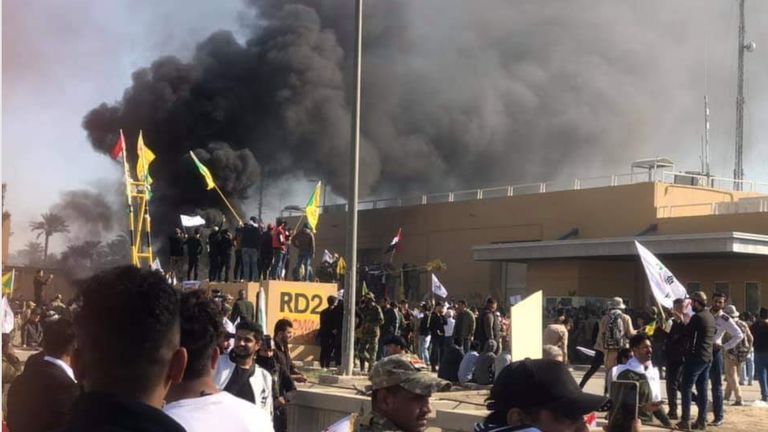 Image:

Protesters broke down the gate at the compound
Reuters reports that US embassy staff and the US ambassador are not in the building, citing Iraqi officials.
They are understood to have been evacuated before the gate – used by vehicles as well as guards – was broken down, with protesters having pelted the entrance with stones as they chanted: "No, no America! No, no Trump!"
Iraqi special forces have been deployed in a bid to prevent them entering the embassy and a man on a loudspeaker has urged the crowd to desist, saying: "The message was delivered."
Image:

Crowds gathered outside the building in their thousands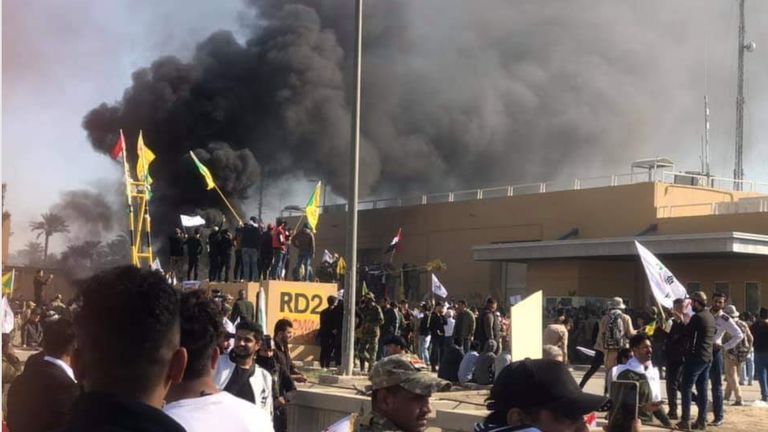 Qais al-Khazali, leader of the Iranian-backed Asaib Ahl al-Haq militia, and many other senior militia leaders are among the protesters who have gathered over the past few days.
Kataib Hezbollah flags have also been hung on the fence surrounding the building in a show of support.
The Kataib Hezbollah is the militia that was targeted by the deadly US strikes in the west of Iraq on Sunday, which caused at least (deaths and injured another) people.
The large protests began after Iraq condemned Washington for the strikes, which left American forces on alert for possible reprisal attacks.
Sky News' foreign affairs editor Deborah Haynes said of the strikes: " It's revived the absolute hatred many Iraqis feel about having US forces on their soil at all.
"That's in the wake of the 2003 invasion and subsequent occupation of Iraq, they remember all to well those days.
"US forces were actually welcomed back in (************************************************************************, by the government, to help in the fight against Islamic State (IS) and during that time they worked on the same side as these paramilitary groups, many backed by Iran , because they had a shared enemy in IS. "
The bombardment also prompted the Iraqi national security council to say it would reconsider working with the US-led coalition against Islamic Stat e.
US, British and other foreign troops are only able to operate in Iraq with the permission of the government, and any review of the relationship could lead to permission being withdrawn.