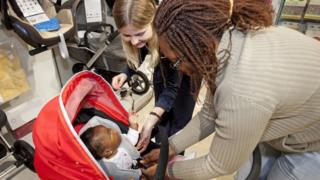 Baby goods retailer Mothercare has said it plans to call in administrators to the troubled firm's UK business, putting 2, 500 jobs at
Mothercare saidits 79 UK stores were "not capable of returning to a level of structural profitability and returns that are sustainable for the group".
It said its stores would continue to trade as normal for the time being.
Analysts said Mothercare had been slow to adapt to competition from rivals and the switch to online retailing.
'Necessary step'
Mothercare has already gone through a company voluntary arrangement (CVA), which allowed it to shut 55 shops.
The planned administration also affects Mothercare Business Services Limited (MBS), which provides certain services to Mothercare UK.
"These notices of intent to appoint administrators in respect of Mothercare UK and MBS are a necessary step in the restructuring and refinancing of the Group, "Mothercare said.
"Plans are well advanced and being finalized for execution imminently. A further announcement will be made in due course."
Only 500 of the jobs at risk are full-time posts, including head office roles, with 2, 000 part-time.
Mothercare has been looking for a buyer for the UK stores, but with no success so far.
The company also operates in more than 40 overseas territories, which are not subject to administration.
Mothercare said that in the financial year to March, its international business generated profits of £ 28 .3m, whereas the UK retail operations lost £ 36 .3m.
---
In its heyday, Mothercare had hundreds of stores. It was the go-to place for new parents. But it failed to keep up with our changing shopping habits. Mothercare's UK arm has been loss-making for years. One big reason is there's so much more competition these days.
From Zara and H&M to the major supermarkets, there are no shortages of places to buy children's clothing and often at cheaper prices. And then there's online, with the likes of Amazon who are able to deliver basic kit to your doorstep within hours of ordering. It has all eaten into Mothercare's market share.
Truth is, this is a business that's been losing money for a very long time. Last year CVA wasn't enough to turn things around. Mothercare ran out of time and money to try to revive its fortunes.
---
Shifting trends
Mothercare's move comes as High Street retailers continue to face tough times amid a squeeze on consumers' income, the growth of online shopping and the rising costs of staff, rents and business rates.
Retail analyst Steve Dresser told the BBC that like collapsed travel firm Thomas Cook, Mothercare had failed to adapt to the world of online retail.
"They got very used to fat margins and a way of trading that's store-based, "he said.
However, the firm had also lost its way on the High Street, with poor store environments that deterred customers. Ultimately, he said, people did not think of Mothercare first when it came to buying baby goods: "I think you would be hard-pressed to know what the brand stands for."
Julie Palmer, partner at Begbies Traynor, said Mothercare had become "a byword for trouble on the High Street", demonstrating "the failure of well-established brands to stay afloat ".
She added: "Other retailers, especially those who have also previously filed for CVAs, will be concerned that these restructuring plans haven't succeeded and a more radical approach may be required in order to survive. "
Richard Lim, boss of independent research consultancy Retail Economics, said:" This is perhaps one of the most highly anticipated collapses on the High Street … the cost-cutting operation and disposal of assets have not gone far enough to revive plummeting profits.
"Years of underinvestment in the online business and its inability to differentiate itself as a specialist for young families and expectant parents has been the root of its seemingly inevitable downfall. As competition has become fiercer they have been beaten on price, convenience and the overall customer experience. "
---
Are you a Mothercare employee at risk of losing your job? Or are you a Mothercare customer? Will you be sad to see it go? Share your experiences by emailinghaveyoursay@bbc.co.uk.
Please include a contact number if you are willing to speak to a BBC journalist. also contact us in the following ways: