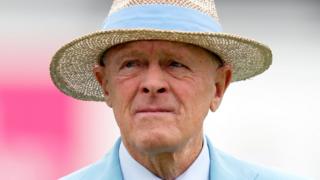 Geoffrey Boycott has said he "couldn't give a toss" about criticism over Theresa May awarding him a knighthood in her resignation honors list.
Domestic abuse charities criticized the move to award the ex-England cricket captain, who wasconvicted of beating his girlfriend in France in 1998.
Boycott has always denied the assault .
Mrs May's former closest advisers, Nick Timothy and Fiona Hill, have also been recognized on her 57 – strong list, made up of mostly political figures.
Every departing prime minister can draw up a resignation honors list, which the Cabinet Office has to approve.
Mrs May announced her resignation in June after failing to get support for the withdrawal agreement she had negotiated for the UK to leave the EU.
The former prime minister showed her love of cricket with knighthoods for Boycott and fellow former England captain Andrew Strauss.
Boycott was fined £ 5, 000 and given a three-month suspended sentence in 1998 after being convicted of beating his then-girlfriend Margaret Moore in a French Riviera hotel.
Mrs May, who introduced a landmark Domestic Abuse Bill to Parliament earlier this year, was accused of sending a "dangerous message" by Women's Aid's co-acting chief executive Adina Claire.
She said: "It is extremely disappointing that a knighthood has been recommended for Geoffrey Boycott, who is a convicted perpetrator of domestic abuse. "
Interviewed by presenter Martha Kearney on BBC Radio 4's Today program, Boycott responded: "I don't give a toss about her, love. It was 25 years ago so you can take your political nature and do whatever you want with it. "
He added: "It's very difficult to prove your innocence in another country, in another language.
"I have to live with it – and I do. I'm clear in my mind, and I think most people in England are, that it's not true. "
Mrs May once compared her determination to delivering Brexit with the fighting spirit in Boycott's batting marathons.
Telling journalists he was one of her sporting heroes,she said in November 2018: "Geoffrey Boycott stuck to it and he got the runs in the end."
Another former England cricket captain , Strauss, was also awarded with a knighthood.
The 42 – year-old left his role as England's director of cricket last year and hasraised nearly £ 400, 000 for the charityhe set up in honor of his wife, Ruth, who died of cancer in 2018.
The (men and 20 women on the list include members of Mrs May's Downing Street staff, political aides and lifelong supporters of the Conservative Party.
It includes recipients from all four nations of the UK as well as non-political figures and members of civic society.
Labor said the honors rewarded "big Tory donors and No 10 cronies ".
The former prime minister's chief EU negotiator Olly Robbins receives a knighthood.
The senior civil servant helped to create Mrs May's Brexit deal before it was defeated in Parliament three times. It has been announcedthat Mr Robbins is to join investment bank Goldman Sachs.
Nick Timothy and Fiona Hill, Mrs May's former chiefs of staff who left their jobs after the 2017 general election in which the Conservatives lost their majority in the Commons, become Commanders of the Order of the British Empire, or CBEs.
There is also a knighthood for her former director of communications, Robbie Gibb.
When her predecessor David Cameron awarded a knighthood to his own head of communications, Craig Oliver, Mrs May laterjoked that she "retched violently" at seeing his name on the list.
Gavin Barwell, the former Tory MP who Mrs May brought in to replace the pair, is one of eight new Conservative peers.
Sir Kim Darroch – who wasforced to resignas ambassador to the US after comments he made about President Trump were leaked – has been made a crossbench peer.
Boris Johnson, who was then running in the Tory leadership contest prior to becoming prime minister, was criticized at the time for not showing enough support for Sir Kim.
Meanwhile, there is a damehood for Cressida Dick, whose police career started at the age of 23 aftera brief spell working in a fish-and-chip shop.She is one of just a few non-political figures on Mrs May's list.
Sir Simon Woolley, the founder of operation Black Vote, and Ruth Hunt, the ex-chief executive of Stonewall, have been made crossbench life peers .
While British Empire Medals, or BEMs, have been awarded to Graham Howarth and Debra Wheatley – Mrs May's head chef at Checkers and housekeeper at Downing Street respectively.
The list of peerages – which sees those appointed sit in the House of Lords – include several nominated by other parties to sit on their
'Policy of restraint'
Among them are former NUT general secretary Christine Blower, for Labor, and former Green Party leader Natalie Bennett, who will become the party's second peer in the House of Lords.
The Lord Speaker, Lord Fowler, said Mrs May's list was "substantially smaller" than those drawn up by predecessors , helping to reduce the size of the House of Lords.
Several MPs have received honors:
Sir Patrick McLoughlin, Conservative MP for Derbyshire Dales (Companion of Honor)
George Hollingbery, Conservative MP for Meon Valley (Knighthood)
David Lidington, Conservative MP for Aylesbury (Knighthood)
Charles Walker, Conservative MP for Broxbourne (Knighthood)
Brandon Lewis, Conservative MP for Great Yarmouth (CBE)
Julian Smith, Conservative MP for Skipton and Ripon (CBE)
Seema Kennedy, Conservative MP for South Ribble (OBE)
John Mann, the Labor MP for Bassetlaw and an independent government adviser on anti-Semitism, received a non-affiliated peerage.
Mr Mann isstanding down as MP,citing Labor leader Jeremy Corbyn's handling of the party's anti-Semitism crisis.
Margaret Ritchie, who was leader of the SDLP in Northern Ireland between 2010 and 2011, also received a non-affiliated peerage.
The former South Down MP made history in 2010 when shebecame the first leader of a nationalist party to wear a remembrance poppy.
A source close to Mrs May said the list "recognises the many different people who have made a significant contribution to public life" during her political career.
Criticizing Mrs May's choices, Labor Party chairman Ian Lavery said: "It comes as no surprise that big Tory donors and Number 10 cronies are being honored yet again.
"The Tories only care about looking after their own and will only stand up for the wealthy few who fund them. "
The SNP's Pete Wishart accused Mrs May of" handing out peerages like sweeties ", adding that it was the" worst kind of cronyism ".
He said:" It is a disgrace that the Tories are able to give away jobs for the boys, and make their cronies and donors legislators for life – with no democratic mandate or accountability to the people of Scotland and the UK. "