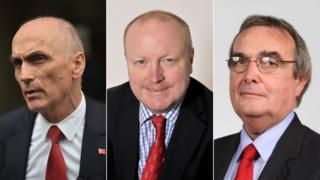 Three former Labor MPs – including Jeremy Corbyn ally Chris Williamson – have been banned from standing by the party's National Executive Committee.
Mr Williamson, who represented Derby North, was suspended in an anti-Semitism row.
Stephen Hepburn, ex-MP for Jarrow, was being investigated over a sexual harassment claim, denied by him, while Roger Godsiff was facing a reselection battle in Birmingham Hall Green.
New candidates will be chosen instead.
It comes as Conservative Alun Cairnsresigned from the cabinetover claims he knew about a former aide's role in the "sabotage" of a rape trial.
Cairns still intends to stand as a Tory candidate in the general election.
Labor's ruling National Executive Committee (NEC) has not made a final decision on whether Keith Vaz can stand for the party, the BBC understands.
The former Leicester East MP was last week suspended from the House of Commons for six months by a standards watchdog.
Mr Vaz "disregarded" the law by "expressing a willingness" to help buy cocaine for male prostitutes, the Commons standards commission saidin a scathing report.
Mr Vaz was re-selected as Labor's candidate in Leicester East, a seat he has represented for 32 years, a few weeks before the publication of the standards report.
If Mr Vaz was re-elected on
December, he would not be able to take up his seat until his suspension ends – and he could face a recall petition, giving voters a chance to remove him.
His Labor colleague, shadow home secretary Diane Abbott , said after the standards commission ruling that he should "consider his position".
"I think he himself should agree not to be a candidate, "she told BBC Radio 4's Today program.
Mr Vaz did not make any comment on his suspension, but a spokesman said he was receiving treatment for a serious mental health condition.
BBC political correspondent Iain Watson i s traveling with the Labor leader on the election campaign trail.
Chris Williamson was suspended by Labor in February after claiming the party had "been too apologetic" in its response to criticism of handling anti- Semitism allegations.
He was reinstated in June but was suspended again after a backlash from MPs, peers and Jewish groups.
Last month, he lost a High Court bid to be reinstated by the party – but the judge also ruled Labor acted unlawfully when it re -opened the disciplinary case against him.
Marie van der Zyl, the president of the Board of Deputies of British Jews, called on Labor to go further after the NEC made what she called the "correct" decision to stop him standing again.
She said : "Labor's leadership must now stop dragging their feet and act immediately to expel from the party this disgraced politician who has baited the Jewish community for far too long."
(LGBT school row)
Stephen Hepburn was suspended by the Labor Party last month, as it launched an investigation into claims he sexually harassed a female party member in her 20 at a curry house 14 years ago.
Mr Hepburn said he "completely refutes" the allegation.
Roger Godsiff, meanwhile, had been facing a vote of constituency party members over whether he should be allowed to stand again before the NEC stepped in.
The former MP has been at the center of a row over his support for protesters against LGBT teaching.
Campaigners had been gathering outside Anderton Park Primary School, in Birmingham, to argue children were too young to learn about same-sex relationships.
Mr Godsiff was formally reprimanded by the Labor Party in June, after he was seen in a video agreeing with protesters.
In a statement, the party said it has "long supported and campaigned for LGBT inclusive education in schools".