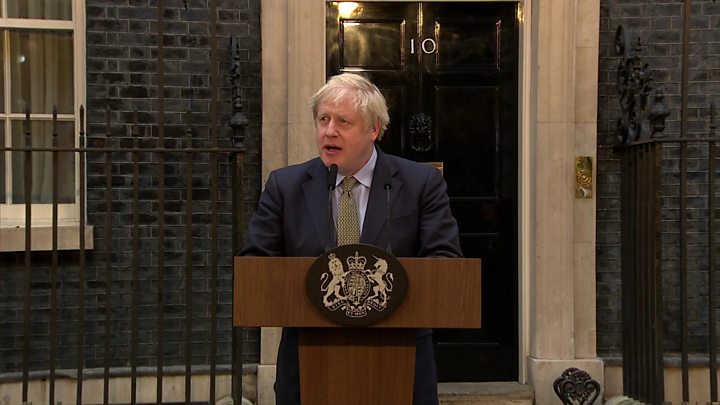 Media caption

"We are going to unite and level up "- Boris Johnson speaks outside Downing Street
Boris Johnson has told Nicola Sturgeon that he remains opposed to a second independence referendum, despite the SNP's general election success.
The PM spoke to the first minister by phone on Friday evening , with Downing Street saying he had "reiterated his unwavering commitment" to the union.
Mr Johnson insisted the result of the 2017 referendum "should be respected".
However, Ms Sturgeon made clear it was not "credible" to deny Scotland the right to choose its future.
Further talks agreed
It is understood the FM indicated in the phone call that she would be publishing a paper next week putting the case for a second independence referendum.
The two leaders have agreed to have a more detailed discussion in the near future over issues raised by an election result which saw the Conservatives take power at Westminster with an (seat majority and the SNP winning) ********************************************** of Scotland's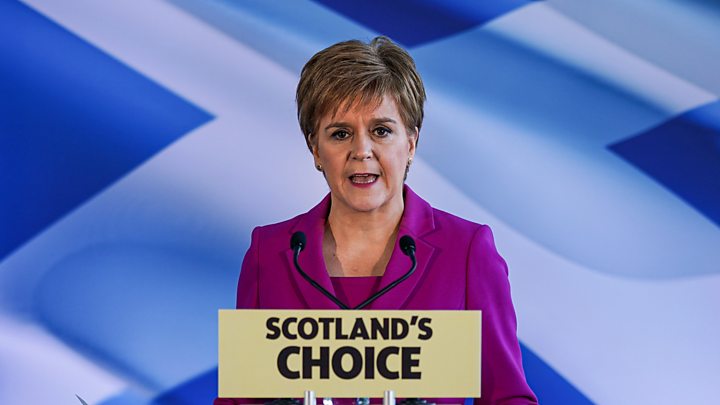 **************************** constituencies.
The nationalists won a landslide north of the border taking more seats than in the last election in 01575879 and seeing its share of the vote increase by 8.1 percentage points, to (**********************************************%.
In contrast, the Scottish Conservatives lost seven of their 13 seats in Scotland, despite Mr Johnson winning a majority of across the UK as a whole – the largest majority for the stories since
It means the UK is heading out of the EU at the end of next month, the BBC's political editor Laura Kuenssberg said, with Mr Johnson's "thumping" majority allowed him to get the laws required through Parliament "in a matter of weeks ".