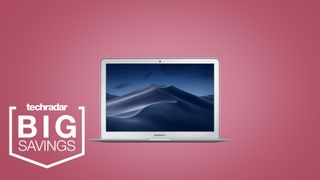 (Image credit: Apple)
Apple made headlines when it abandoned the Butterfly keyboard in the16 – inch MacBook Pro, but it's still there in themost recent MacBook Air. In fact, you have to go all the way back to 2017 to get a livable keyboard in the Air – luckily Amazon has that exact model on sale.
Right now you can pick up this sweetBlack Friday laptop deal, scoring the2017 MacBook Airwith an Intel Core i5 processor, 8GB of RAM and a 128 GB SSD for just $ 699. It's an older processor to be sure, but it's really notthatmuch slower than the current mid – (model, and this $)Amazon Black Friday dealis pretty awesome.
MacBook Air 2017:$ 999$ 699 at Amazon
The 2017 MacBook Air remains the most affordable way to break into the macOS ecosystem, and with this steep Black Friday discount, it's cheaper than ever. Sure, it has an older design, but at $ 300 off, it's an easy choice.View Deal
This model of the MacBook Air is still using an old Intel dual-core processor, and a 900 p display. That doesn't sound super great on paper, but if you have a kid that needs their first computer or just want something you can carry around without worrying about price, it can still do pretty much everything you throw at it. Plus, macOS is frankly amazing at working with older hardware.
Plus, you can't forget the keyboard: this laptop came out before Apple started shoving the Butterfly keyboard into literally every laptop in its lineup. If you want a comfortable, quiet keyboard that won't break because it gets some dust on it, you can either get this laptop or spring for themuch more expensiveMacBook Pro 16 – inch . If you ask us, it's an easy choice.
TechRadar is scouring every retailer and rounding up all the top deals over the Black Friday period, and we've put all the bestBlack Friday dealsandCyber ​​Monday dealsin easy-to-navigate articles to help you find the bargains you're looking for.
The best Black Friday sales from around the web