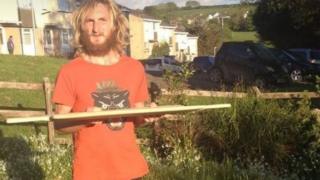 A man who killed three elderly men because he wrongly believed they were paedophiles has been cleared of ****
Exeter Crown Court heard Alexander Lewis-Ranwell battered his victims – all in their 80 s – with a shovel and a hammer in a "whirlwind of destruction ***.
He has paranoid schizophrenia and was having delusions about saving girls from a paedophile ring, jurors heard.
The 28 – year-old was found not guilty by reason of insanity after jurors decided he "did not know it was illegal".
Twins Richard and Roger Carter, 84, and Anthony Payne, 80, werebludgeoned on 10 February.
The court heard Lew is-Ranwell was arrested and released by police twice in the lead-up to the killings.
He began the first fatal attack just three hours after he had been released from police custody, where he had been held for wounding a farmer with a saw.
It was his second arrest in the space of 24 hours and came just seven hours after he was arrested over an attempted burglary at another farm.
Three psychiatrists agreed Lewis-Ranwell was insane when he battered his victims.
But the prosecution had argued the defendant bore some responsibility for what
The court heard evidence of Lewis-Ranwell's interaction with various health professionals during his three spells in custody between 8 and 11 February .
After his first arrest, on 8 February, his mother phoned police expressing "grave concerns should he be released" but he was charged and bailed.
Following his second arrest, at about (**********************************************: 00 on 9 February, a police inspector reviewing his detention found he "potentially presents as a serious risk to the public if released".
Two-and- a-half hours later, a forensic medical examiner – a doctor employed by G4S Health Services – deemed Lewis-Ranwell was not "acutely unwell" and a full mental health assessment was not carried out.
Lewis-Ranwell was released from Barnstaple police station at about 09: 30 on 10 February and traveled to Exeter.
He entered Mr Payne's home at about 12: 30 and bludgeoned the pensioner to death with a rusty hammer.
Less than three hours later Lewis-Ranwell scaled the wall of the Carter brothers' home in Cowick Lane, taking a spade from the garden and using it to beat them both to death.
After his final arrest the defendant told a psychiatrist at Broadmoor secure hospital: "I cannot believe no-one helped me – they let me out twice when I was unwell. "
In sentencing, Mrs Justice May described the case as" disturbing … on so many lev els – three dead, two injured at hands of someone floridly psychotic at the time and therefore not criminally responsible ".
She said she would be making a hospital order with restrictions to insure Lewis-Ranwell "won't be allowed into the community until agencies are absolutely content it is OK for him to be released".
In a statement, the head of custody for G4S Health Services, Jon Allen, said the company "stood by their decision" that "Lewis-Ranwell was not suicidal and did not meet the requirements of a full Mental Health Act assessment in the out-of-hours period".
Head of major crime at Devon and Cornwall Police, Det Supt Mike West, said: "We fully accept our responsibilities to look after those detained in our custody units.
"However, it is unreasonable to suggest that police officers or staff, in these circumstances, should have over-ridden decisions made by those who are trained, qualified and skilled in health care. "
Following the trial Mr Payne's family said they are" still profoundly shocked "and described the victims as" gentle, kind and caring gentlemen ".
The family of the Carter brothers said they were" quiet "twins who" loved the outdoors, wildlife and bird watching " and "were born, lived and died at the house in Cowick Lane".