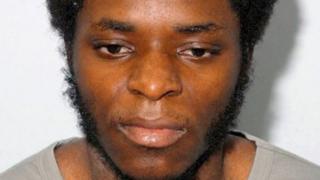 One of the men convicted of murdering soldier Lee Rigby has admitted assaulting a nurse at the high-security Broadmoor Hospital.
Michael Adebowale, 28, punched a healthcare assistant while being held in the Berkshire hospital on 20 July last year, Reading Crown Court heard.
Adebowale was serving a 45 – year term for the 2013 killing of Fusilier Rigby in Woolwich, south-east London.
He was jailed for eight months to be served at the end of his sentence.
After denying a more serious charge of inflicting grievous bodily harm, Adebowale pleaded guilty to assault causing actual bodily harm.
Adebowale, who now uses the name Ismaail Kuti, along with Michael Adebolajo, drove into Fusilier Rigby with a car before hacking him to death.
The court heard Adebowale had been a patient at Broadmoor when health assistant Jason Taplin asked him to turn down music he was playing through his MP3 player on the TV in the day ward.
Prosecutor Sarah Whitehouse QC said Adebowale had returned to his room "upset and annoyed" before reappearing and attacking Mr Taplin, who was doing paperwork at his desk.
The nurse was taken to hospital for an injury to his left jaw which took six weeks to heal, the court heard.
Sasha Wass QC, defending, said Adebowale was being treated for paranoid schizophrenia.
"He is clearly unwell, he clearly had a lapse in self control and he regained his self control and he immediately showed his remorse by writing a letter to Mr Taplin, "she said.
" His medication was not sufficient to deal with the psychotic state he experienced on July 20 of last year and as a result of that state he administered the blow. "
Adebowale has spent three periods in Broadmoor since his conviction, and is expected to spend the next "five or 10 years" there, the court heard.
The court heard a family visit for Adebowale had been cancelled, as well as a canteen visit, before the attack.
He appeared via video link from the secure hospital for the hearing.
Sentencing Adebowale, Mr Justice Jay said: "It was a combination of the illness and the stress working on your mind which was a material factor in your case."
The victim sustained a "serious injury" which "would have been very painful", he added.
The charge of inflicting grievous bodily harm was left on file.
Fusilier Rigby, a father-of-one, died as a result of multiple cut and stab wounds after the attack fuelled by Adebowale and Adebolajo's extremist beliefs, described as a "betrayal of Islam" at their murder trial in 2014.